What You Need To Know For Pyromania
We are excited to have you at our upcoming event! Below is a list of everything you need to know before the event.
Please note: Cedar Lake Cellars winery will not be open to the public on Saturday, 9/16/23.

---
PYROMANIA WRISTBAND PICKUP
Attend wristband pickup to avoid lines on event day! Choose one of the dates below to check in and get your wristbands ahead of time.
WHAT TO BRING TO WRISTBAND PICKUP
YOUR EVENT TICKETS
Your tickets can be printed or shown on a mobile device.
Download your tickets from your Eventbrite confirmation email or by logging in here.
YOUR PHOTO I.D.
You must have a photo I.D. (license, passport, or military I.D.) for every person you are picking up wristbands for who is over 21. (You can bring a picture or copy of their I.D.'s)
Please Note: Children and guests under 21 are not allowed on the winery property at Cedar Lake Cellars (with exception to the Family Festival Area).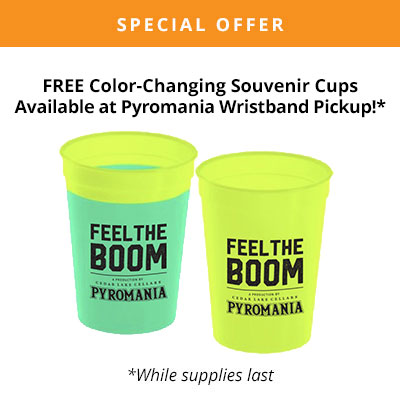 ---
EVENT DAY
SATURDAY, SEPTEMBER 16, 2023
AT CEDAR LAKE CELLARS
11008 Schreckengast Road Wright City, MO 63390
View Driving Directions ›
Please note: Cedar Lake Cellars winery will not be open to the public on Saturday, 9/16.
You will need a Pyromania event ticket to join the fun!
EVENT SCHEDULE
10 a.m. – 10 p.m.
---
Cedar Lake Cellars Hours:
10 a.m. to 10 p.m.
Live Music From Yacht Rockers:
12 to 4 p.m. @ Family Festival Area Stage
Family Festival Area:
2 to 7 p.m.
The Landing Gates Open for Pyromania:
2 p.m.
Pyromania Food Court Opens:
4 p.m.
Live Music from Super Jam:
4 to 7 p.m. @ The Landing, Pyromania Field
VIP Experience:
4 to 9:30 p.m. (Bar closes 30 minutes before show ends)
Pyromania Fireworks Show:
Two-Hour Show, Starting between 7:30-8pm (at Dusk)
---
WHAT TO BRING TO THE EVENT
YOUR PHOTO I.D. & EVENT TICKETS
If you were unable to attend Wristband Pickup, arrive at least 60 to 90 minutes early and check in at any of our ticket locations prior to the event with your photo I.D. and event tickets.
YOUR WRISTBAND
All guests must show their wristband for event access. Wristbands can be picked up ahead of time at wristband pickup (Sept 9/7 – 9/10) or at any of our check-in locations on event day.
CASH
Food and beverage will be available for purchase in the Pyromania food court and at the event. This is a cash-preferred event. ATMs will be available at the Pyromania property, but you are strongly advised to bring cash with you to avoid any lines.
Note: Cedar Lake Cellars winery will still accept credit and debit cards.
BLANKETS & CHAIRS
There will be plenty of space in the Pyromania viewing area for you and your friends to spread out and get comfortable for the show! Event seating is not provided, however folding chairs will be available for rent for $10 each at The Landing Merchandise booth. Your blankets and chairs are allowed on the winery property as well.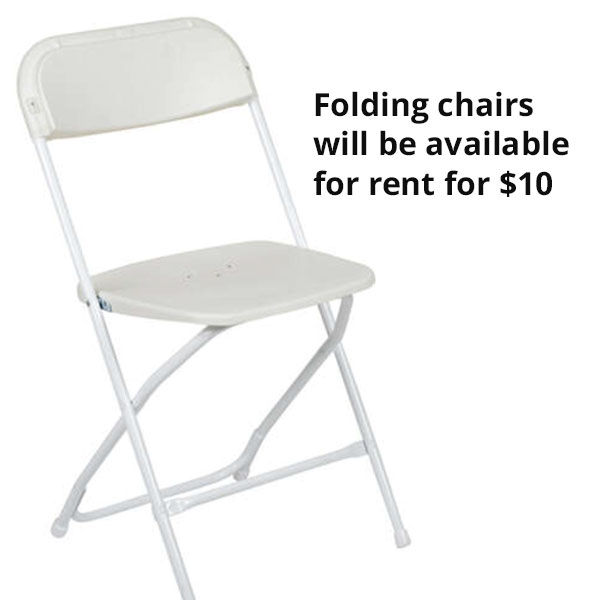 WHAT YOU NEED TO KNOW
ARRIVE EARLY
Plan to arrive 60 to 90 minutes early to allow time to park and check in.
PARKING
General parking is FREE! A few Preferred Parking Passes are still available for purchase, only at one of the wristband pickup locations listed above. (If you purchased a Preferred Parking Pass or have VIP Parking, please hang it from your rearview mirror so it can be easily seen.)
FAMILY FESTIVAL AREA
Come out early and experience our Family Festival Area, full of fun yard games, a Bubble Bus, an escape room, a clydesdale, inflatables and more!
WINERY ACCESS
Your Pyromania ticket includes all day access to Cedar Lake Cellars (the winery is for guests 21 and up, with the exception of the Family Festival Area which is open to all ages for this event). Cedar Lake Cellars is open from 10 a.m. to 10 p.m.
DINING & DRINK OPTIONS
Pyromania will have a food court with various food trucks! Guests over 21 are invited to visit Cedar Lake Cellars for a variety of wine, beer, mixed drinks and grab & go dining options, including Cedar Lake Cellars' signature 'BOOM' wine slushy! There will be not be full-service dining in the winery on this day.
VIP INFORMATION
VIP CHECK IN
There will be a separate entrance for VIP on event day! If you arrive earlier in the day, you can check in at the winery location! Starting at 3:30 p.m., you can go directly to the VIP tent to check in.
VIP SCHEDULE
VIP Check In: 3:30 p.m.
VIP Tent Opens & Bar Opens: 4 p.m.
Appetizers: 4 to 5:30 p.m.
Dinner Buffet: 5 to 7 p.m.
Dessert: 6 to 7:30 p.m.
Fireworks Show Begins: 7:30 p.m.
Bar Closes: 9:00 p.m. (30 minutes before show ends)
VIP Tent Closes: 9:30 p.m.
VIP VIEWING FIELD
Your all-inclusive VIP ticket includes access to our private VIP tent from 4 to 9:30 p.m. In addition, we have a reserved VIP Viewing Field with an up-front view of the show! You are welcome to bring your own blankets and folding chairs for this area.
Please Note: The food and beverages included with your VIP ticket are only available inside the Pyromania VIP tent.
---
---
DRIVING DIRECTIONS
Fastest Route From St. Louis: Take I-70 west to Wentzville exit #209 (Hwy Z/Church Street). Drive south on Hwy Z for two miles, then turn right on Hwy N. Take Hwy N to Hwy M, turn right and follow the Pyromania signs!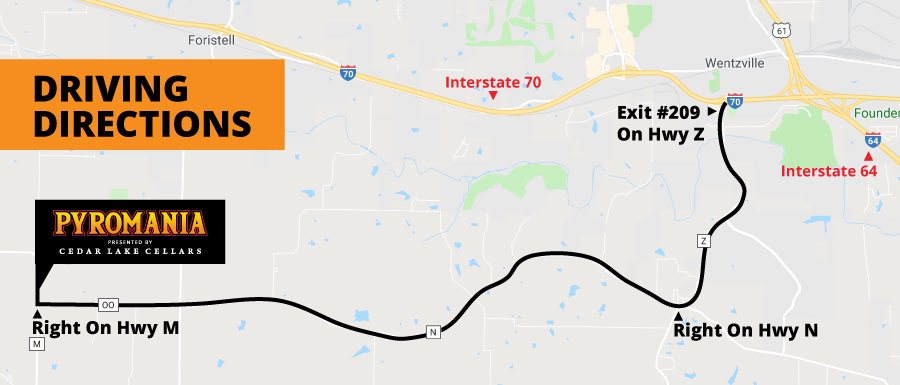 ---
FAQS
What is Pyromania?
It's difficult to describe, but we'll give it a try: Pyromania – the largest fireworks show in the region – is a massively hypnotic, take-your-breath-away blast of a good time for kids and kids at heart.
Where is Pyromania located?
Cedar Lake Cellars
11008 Schreckengast Road in Wright City, MO
Get Directions ›
Do I need a ticket to attend?
YES!
You will not be able to watch the show or access the winery on Saturday, 9/16 without a Pyromania ticket (or your Pyromania wristband).
What can I bring to the event?
• Plenty of blankets and chairs
• Your family and friends
• Money to purchase a wide selection of refreshments
• An "I am so excited to have an awesome time" attitude
What is not allowed at the event?
• No outside food or drink
• No coolers or tailgating
• No pets
• No smoking
• No firearms or personal fireworks
• No drones
• No camping
What is included with a VIP ticket?
• Exclusive VIP Tented Area with Catering
• Up-Front Seating For The Displays & Event Competition
• Unlimited Beer, Premium Mixed Drinks, Wine, Soda & Water
• Private Restrooms
I purchased a Preferred Parking Pass. How do I get it?
Preferred Parking Passes (purchased by 9/1) are sent out to the mailing address that was provided by you, unless you elected to pickup at a wristband pickup instead. Expected arrival September 11th – 13th. If you need to edit your address, please send us a note here. A few passes remain and can be purchased in person at Wristband Pickup.
What happens if it rains?
This is a rain or shine event (that means our pyro techs will shoot off fireworks – no matter what Mother Nature throws our way). In the unfortunate case of severe weather, we will adjust the event accordingly and notify guests on our website and social media.
Is there lodging near the event?
Yes! Below are a few nearby lodging options:
Fairfield Inn & Suites by Marriott Wentzville
130 Crossroads S Dr, Wentzville, MO 63385 | Learn More ›
Hampton Inn Wentzville
150 Wentzville Bluffs Dr, Wentzville, MO 63385 | Learn More ›
Holiday Inn Express Warrenton
1008 State Hwy 47, Warrenton, MO 63383 | Learn More ›
Please note: All families are welcome in the Pyromania event area, but guests must be 21 years of age and older to visit the winery, with the exception of the Family Festival Area.